The world premiere of 'SHOW ONE!' took place on May 17 2010, in the Performance Space of Gallery Oldham, and was a part of Oldham's IDAHO event.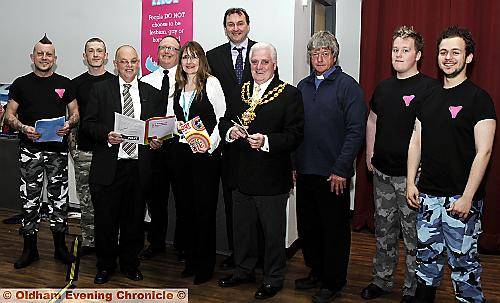 Click here to read the Oldham Chronicle article from 21 May 2010 which accompanies the above, hyper linked image..
Here's what the audience had to say….
"'

SHOW ONE!

' made me chuckle, brought tears to my eyes, and also had a serious message to convey."

– Jayne Bailey, Professional Football Association
"I have been moved to tears AND laughter tonight by the boys in the Pink Triangle Theatre Company. Thank you and well done, a brilliant performance."

– Alison Keane, Teacher, New Bridge School.
"Saw '

SHOW ONE!

' tonight and was very impressed. Looked at homophobia from a range of everyday perspectives: media, pub jokes, travelling on the bus, language and lots more. Fast moving with scenes of 2-5 mins, so keeps you on your toes. Will be perfect for secondary schools and colleges. Great stuff."

– Mary-Ann McGurran, www.britishcouncil.org
"This is a justifiably powerful production. Remaining silent while witnessing the psychological scarring resultant from such practices is not an option, if you are with conscience. Getting the message through in this way is pure fabulous genius and I love it. Keep going."

– Dr Wassim Malas, GP in Hollinwood
"'

SHOW ONE!

' was incredibly powerful and moving.   It really made a massive impact.   Everyone I spoke to said how good and how powerful it was."

– Susan Kirkham, co-lead Oldham LGBT Forum.
"Just to say how much I enjoyed your performance at Oldham on the 17th may. Very powerful and commanding. The message loud and clear."

– Lynda Winrow, Senior Youth Worker.
"Brilliant first show, rollercoaster of emotions, highly entertaining, painful, funny and most important for me truly reflective of attitudes and real life issues that LGBT people face everyday. Can't wait to see more"

– Angela -Community Arts North West